AR-7 Survival Rifle
| | | | | | |
| --- | --- | --- | --- | --- | --- |
| L.O.A. | Barrel | Weight | Caliber | Action Type | Magazine |
| 40 inches | 16 inches | 2 3/4 pounds | .22 L.R. | Recoil Semi | 8 |
Cheap, light, and reliable, what more could you want out of something touted as a survival rifle? I paid $75 for this rifle, years ago, and I think it is just a bit over $150 these days. The entire rifle breaks down and stows in the butt stock. It is so light that it will float if dropped in water. The parkerized finish is impervious to rust, as are the gun's alloyed inner components. Even the barrel is alloy (aluminum) with a rifled steel liner. When I first got the little beast, the idea was that I could keep it stowed in the trunk of my car, or maybe toss it in the seat locker of my boat. The legality of this varies from state to state, but for the most part you are all right if a gun is broken down, cased, and the ammunition is stored apart from it. The gun would also be a natural as a utility gun, stowed away in a back pack or a camper, but gun laws are so pervasive these days that what seems like a simple good idea can get mighty complicated.
The gun itself is reasonably accurate, and except for the clunky stock, pleasant to shoot. A military peep sight sits atop the receiver, which is also grooved for a scope. Mounting a scope on a self stowing, waterproof, and floating rifle seems to defeat the design of the gun a bit, but the option exists for those who would complain if it were absent. This rifle was initially designed for the U.S. Air Force as (surprisingly) a survival rifle, and precedes the newer M7, .410/.22 o/u model. All and all, it is admirably suited for it's stated purpose. This is one of the few guns I have seen which can be safely stowed and then ignored until needed. .

Here is a photo of the broken down action stowed in the stock. Packed away like this, the rifle will fit in a backpack, cabinet, or any small space. Reassembly of the gun takes less than a minute and consists of seating the receiver in the stock, tightening a thumbscrew, inserting the barrel and screwing down its' collar, and then inserting the magazine. The little rifle is perfectly suited to it's role and I expect mine to outlast me, which is something I can say about few other $75 investments I have made.
These rifles are presently being made by the Henry Firearms Company. The guns were originally produced by Armalite, using what were at the time, cutting edge manufacturing processes. My gun is one of the Armilites. There were some compromises made, in order to have the rifle float, and allow it to be self stowing. This would presently not be my first choice for plinking, hunting or any other purpose. Though not exactly a target gun, the AR-7 is accurate enough. The trigger has an odd feel to it, and the gun has a cumbersome feel to it; but a deliberate stance, and a careful aim produce acceptable accuracy. Eugene Stoner and Armalite created a number of interesting firearms.
One interesting note about movies, guns, and gun ignorant writers. This rifle was actually featured in a James Bond movie. The movie was "From Russia With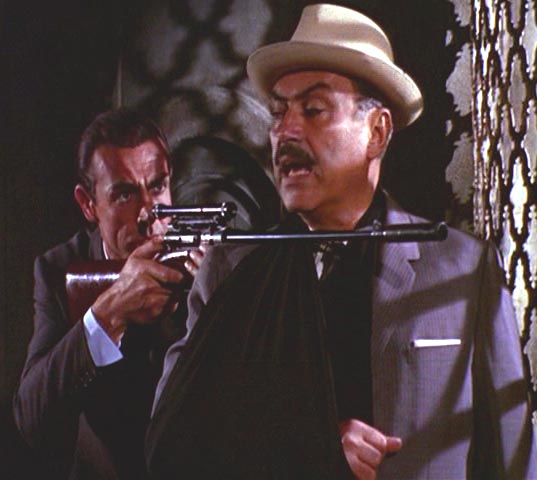 Love", and the gun was presented to Bond by Q, who called it " A point two five AR-7 snipers' rifle, with an infra red sight". Later in the movie, Bond helped an associate use this rifle to kill an assassin who was attempting to flee out a back window. Needless to say, this rifle would not be my first choice for such a job. Neither the caliber nor the action lend themselves to this kind of thing. It is also chambered in 22, not 25.
There is some equal silliness going around, with people trying to turn these little guns into pseudo assault rifles. There are the really silliy vanity items, like barrel shrouds, and skeletanized stocks, as well as seemingly usefull items like 25 round magazines.