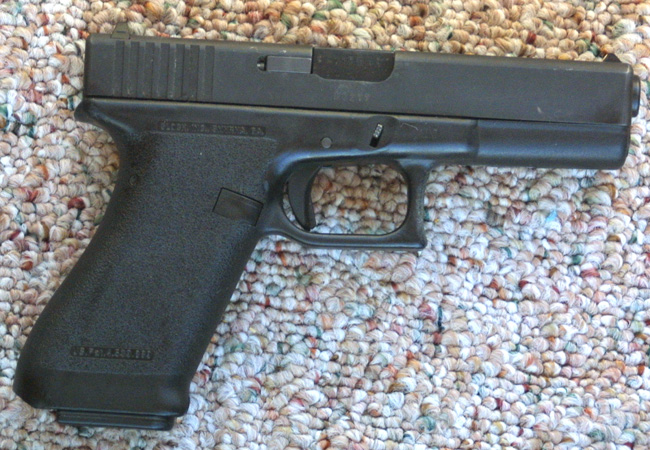 Glock 17
| | | | | | |
| --- | --- | --- | --- | --- | --- |
| Length overall | Barrel Length | Weight | Caliber | Action Type | Magazine Capacity |
| 7.4 Inches | 4.5 Inches | 24 oz. | 9mm | Recoil Semi | 17+1 |
The first of Gaston Glock's ingenious pistols. After a slow initial acceptance, the gun has proven enormously popular with police, the military (though not the U.S.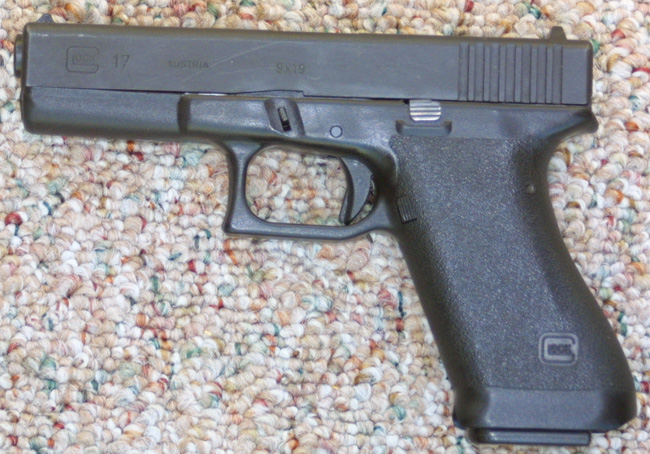 military), and civilian shooters. The range of Glock pistols now numbers over a dozen guns in all major calibers, and this is the gun that started it all. A fuller account is given in the general section on the Glock. My pistol will shoot about a three inch group at 25 yards. The gun is a natural pointer, and hits are very easy to score. The gun has superb combat accuracy, although it is not what I would call a target gun. Three inch groups won't win you many medals, but in the real world, the gun's natural pointing and quick time back on target are as good as any gun I have ever fired.
This is the original version of the Model 17. Newer versions have slightly reworked internals, and a newly textured surface, on the front and rear of the grip. Other than that, no changes have been made, as few changes have been found necessary.
The only difficulties of which I am personally aware, are Glock wrist (where the gun will fail to eject completely without a firm hold), a tendency for the gun to dislodge it's magazine while flexing under hot handloads (147 grain at 1140fps), and the absolute necessity of using plastic magazines, rather than aftermarket metal magazines, to prevent the magazine catch from being eaten away. I personally do not care for the trigger; but this is a matter of personal taste. Some users also dislike the fact that the magazines do not drop completely from the gun. Still, this is not picking, of what is destined to be one of the great firearms designs.