Mossberg 590
| | | | | | |
| --- | --- | --- | --- | --- | --- |
| Length Overall | Barrel Length | Weight | Gauge | Action Type | Magazine Capacity |
| 26 ½ Inches | 18 ½ Inches | 5 Pounds | 12ga | Pump | 6+1 |
Very light and small, as small as a shotgun legally can be. The law limits shotguns to an overall length of at least 26", and a barrel length of at least 18". This is a
12ga 6 shot pump, which can comfortably be stowed or carried just about anywhere. Needless to say the gun kicks a bit and can be some what of a hand full when fired. Like the classic 870, this gun has been issued in the military, and is equipped with dual action bars. Having no buttstock, this is a very difficult, and somewhat unpleasant piece to fire, and not what I would call a recreational gun, though it does have it's uses.
This shotgun has a pistol grip, and has been fitted with a carrying strap. Shotguns so configured are generally referred to as cruisers. In addition, this particular example has had a Sidesaddle shell carrier installed. The only thing preventing this from being a nearly ideal knockaround gun is it's blue finish. A nickel, parkerized,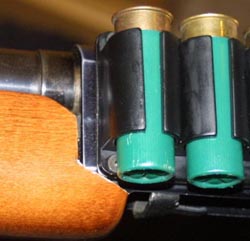 or teflon finish would wear far better. Installation of the pistol grip was simple, and required the removal of a single, rather large, screw, which held the stock in place. The recoil pad needed to be pried off, after which the screw holding the stock was removed with a very long screw driver. Details on the procedure, are on my Remington 870 page. The Sidesaddle was a bit more difficult, because the wooden grip of the action slide would not clear the mounting plate. The grip needed to be removed, so that a notch could be cut. It is hardly noticeable, and if you didn't already know how the grip was shaped, it would seem quite natural. A screw needs to be removed, from inside of the action, and replaced with a longer one. In addition, the pin holding the trigger group housing in, needs to be replaced with a long screw. The instructions are pretty clear, and it is important that they be followed exactly. The shell carrier is then screwed onto the metal mounting plate. These two additions contribute greatly to the utility of the piece. Sadly, the method of barrel attachment does not permit the addition of a magazine extension, though the Mossberg does have a 6+1 capacity as it comes from the factory. This gun will probably end up with a laser, or a red dot site.
These guns have been around for a long time, in many variations, and are very reliable. The Mossberg 500 series is a bit less expensive than the venerable Remington 870; but is becomming a standard in it's own right. Though I do have a preference for the Remington, this is in no way meant to disaprage the Mossberg. If the Remington is perfect, then the Mossberg is pretty near perfect, and at a much lower price.