.22 bolt (Stevens Whippet)

| | | | | | |
| --- | --- | --- | --- | --- | --- |
| Length Overall | Barrel Length | Weight | Caliber | Action Type | Capacity |
| 41" | 16" | | .22 | SS bolt, manual cocking | 1 |
I acquired this little rifle from a co-worker, several years ago. He was not a gun enthusiast, and had no idea what it was, or what to do with it. Initially, neither did I. The gun itself had been found with a number of other odds and ends, in the attic of a dead grandparent whose house was being cleaned out. He had offered to sell me a number of boxes of ammunition, found there, and just threw the gun in for nothing. The total cost was something like $25 for the gun and several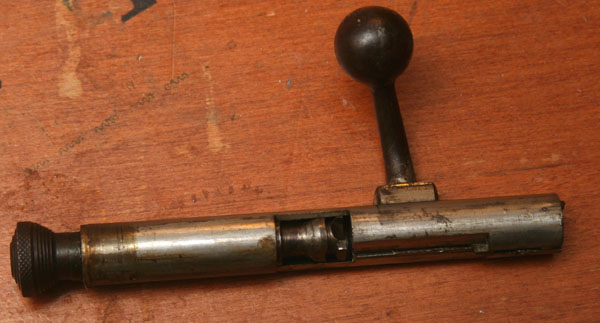 hundred rounds of assorted calibers (mostly .38 special, and .44 magnum) of ammunition.
The gun itself, seems to be an old single shot boy's rifle from at least sixty years ago. It looks like it would have been at home in a summer camp of those long ago days, when riflery was taught to all boys, as a part of their heritage, and a wholesome and useful outdoor skill. This is a single shot, bolt action rifle, with an external cocking piece at the rear of the bolt, in the manner of the old m1917 rifles. It has simple sights, and a simple action. This gun probably cost around $10-$15 when new, and would likely sell for about $60-$80 new, today, if such guns were still made.
I have had quite a bit of harmless fun with this little rifle, and it takes me back to my own first gun - a Remington nylon 10 stocked model. Both are simple bolt action rimfires, which hold a single shot. Such a rifle teaches marksmanship, and patience. There is no quick follow up shot if you miss.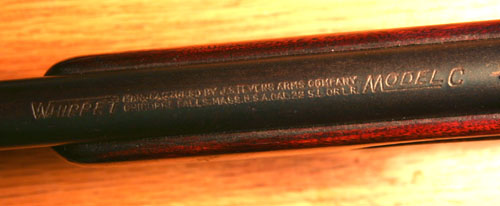 To fire this rifle, you pull the bolt handle up, and back. You then insert a cartridge, and push the bolt home, locking the handle down. The cocking piece on the back of the bolt, must then be pulled back, until it locks. You may then take aim, and fire. It is a very deliberate and leisurely way of firing a gun.
There is no safety, and none is required, as long as the user is taught not to cock the piece, until ready to fire, and not to unlock the bolt while cocked. This cheap, and simple little gun, was probably the pride and joy of some 12 to 15 year old boy, a long time ago. The barrel markings read: "Whippet Model C .22 s, l, lr made by Stevens arms company". A little research indicates that this gun was produced before WWII, as a boy's rifle.