Timbuk2
Case
CPU
RAM
HD
Video
Drives
OS
Sound
Monitor
Modem
Network
Midtower
PIII 866
1GB
60gb
120gb
ATI Radion
32mb
31/2,CDR
,DVD,zip
floppy

W2K
sb live
14" flat
None
10/100
This is my first dedicated Windows 2000 machine (though I did set up Bigguy to dual boot with W2K),and I am very happy with the results. The 60 gb drive should give me a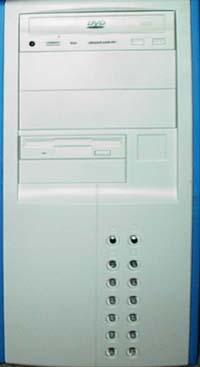 bit of breathing room, for the next year or so. If not the second drive, of 120 gb should help. It is pointless to attempt to look any further ahead, in regards to computers. The CPU is s bit slow, by today's standards, but the mother board will allow me to update to a 1ghz unit, when I feel the need for speed. The 32 mb Video card, makes this a pretty good game machine, and Windows 2000 does a much better job with some of the more demanding games, than NT was able to do. This is presently my all purpose machine.
Windows 2000 was installed with all options, and the hard drive is set as a dynamic drive, giving it many of the same drive management features as my beloved Unix. Along with W2K, all of my favorite software is installed, including Office 2000 (now Office XP), and the full line of Adobe products. The machine plays DVD movies flawlessly, and is a wonderfull performer. The size of the hard drive, amount of memory, and the PIII CPU, will enable me to do some digital video editing. I am in the process of acquiring a digital camcorder, and will be running Adobe Premier. This is a pretty plain machine, and it's CD recorder, and Zip drive are USB devices. I also have the digital cable to my Canon D30 camera connected, as well as a scanner, microphone, and web cam. This unit is housed in the roll top desk shown here.
Though this machine started out as a teaching tool (for my W2K MCSE), it is quickly turning into one of my preferred machines. This machine helped me to get familiar with the many new features of 2000, and am impressed with what I have come to know. There are the user consoles, and the many features of the dynamic drive, as well as the more user friendly options, and the inclusion of a device manager. This was the latest incarnation of Windows NT, and it looks like Microsoft may have actually gotten it right, this time.
The motherboard had to be flashed, in order to get the unit to see the large hard drive. This also solved a problem that the machine seemed to have with Windows 2000. The unit would crash, during the install, and I would get a blue screen, telling me that I should notify my administrator (I suppose they meant I should go have a talk with myself, but I do enough of that already). I have recently upgraded thsi machien to Windows XP, and have had no issues or difficulties.