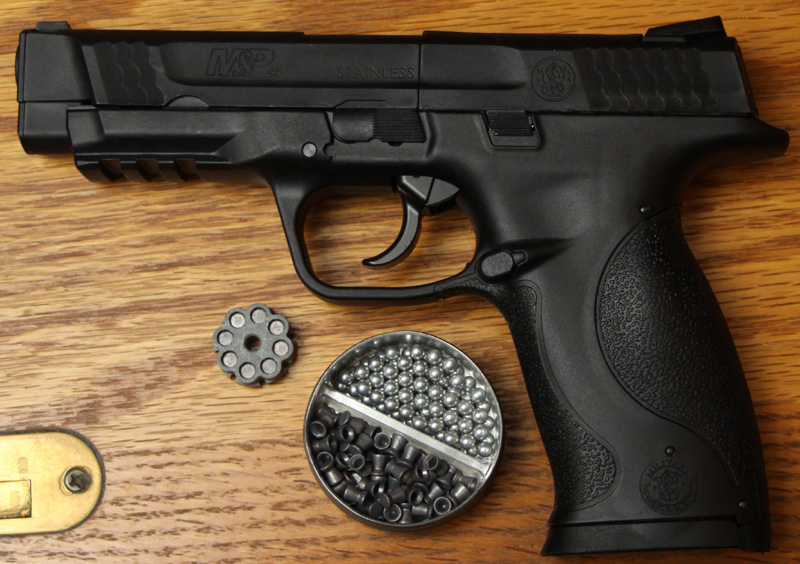 S&W M&P 45
| | | | | | |
| --- | --- | --- | --- | --- | --- |
| Length overall | Barrel Length | Weight | Caliber | Action Type | Magazine Capacity |
| 8" | 3.4" | 23oz. | .177 pellet/BB | CO2 Revolver | 8 |
This is a genuine S&W handgun that I can shoot in my basement,
let one of the kids shoot, and own just about anywhere. It is a CO2 powered bb/pellet repeater, and unless you look at it very closely, you may not even know that it isn't one of the new S&W polymer combat handguns.
Air guns are getting to be big business, and it is not just children who shoot them these days. With laws and attitudes being what they are, it is getting rare to find a child who has an air gun. Today you will most likely find an adult down in the basement or perhaps in the back yard, banging away at paper targets. Perhaps this is a legion of frustrated former children, refused air guns when they were young, and indulging those childhood fancys now that they are older.
It may also be cheap easy and legal practice for those of us that are financially or legislatively challenged. Ammunition is expensive today for real firearms, while remaining relatively cheap for air guns. It is also more socially acceptable to shoot an air gun in the basement or backyard, than the genuine article.
Because of the preponderance of adults now using them, air guns have become quite a bit more serious, better made, more realistic, and sadly, more expensive. They are also quite a bit more dangerous, having both higher muzzle velocities, and greater accuracy from their rifled barrels, than the classic old Red Ryders of the fifties and sixties. They may also be more dangerous to the shooter, since many are very realistic looking, and may be easily mistaken for real firearms by cautious law enforcement officers.
A great example of such an air gun is the S&W M&P 45. This greatly resembles the standard S&W M&P handguns, and features a 360 fps muzzle velocity. It also has some pretty grown up gun features, like good sights, a positive safety, fast reloading, and useful magazine capacity. It has a rail mount for lasers, flashlights and other accessories, like many tactical pistols.
The photo to the right shows the M&P with everything needed to load and fire, including magazines, a CO2 cartridge, and a supply of BB's and pellets. The gun in the photo is broken open to facilitate loading of the magazine.
An air gun like this is nice for cheap practice, and handles in a very similar fashion to its grown up cousin. It is also a lot of fun, and can be conveniently fired in a basement range, rather than having to take a trip out to a range and pay a range fee.
Like any air gun, there is a distinct pop upon firing, but nothing to disturb the neighbors. Hearing protectors aren't ordinarily required with air guns, though shooting glasses are a must. While pellets tend to deform and drop, BB's bounce all over the place, and I am frequently hit by BB ricochets when using this gun.
The gun is nicely blister packed with everything you need to get started, including shooting glasses. A pair of magazines, a multi-language manual, assorted safety literature, two CO2 cartridges, and a split package of pellets and BB's are all included. It even includes some paper targets, and shooting glasses. The guns are made in Taiwan, by Umarex, and sold under the S&W brand. Even so, this is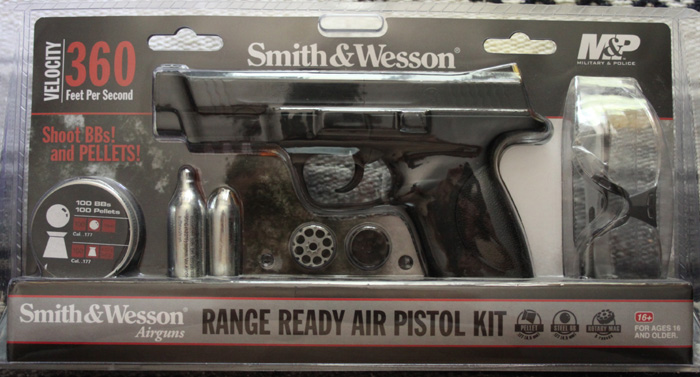 identical in appearance and very similar in handling qualities to the S&W semi-auto, and there is something reassuring about an air gun sold by a firearms manufacturer.
What it does not include is adult supervision, and the literature is graced with warnings and disclaimers that no one under 16 should be allowed unsupervised use. Typically air guns are not sold to minors. It's the times we live in. When I was growing up we all knew ten or twelve year olds who had air guns, and even the occasional kid who had a 22 rifle.
The manual warns that danger of injury exists out to 300 yards, which at 360 fps is pretty ridiculous; but we live in a time of disclaimers mandated by lawyers. It may also be that this bit of exaggeration is a backhanded bit of advertising, making the guns appear somewhat more powerful than they are. Still, small animals can be hunted with air guns, and I wouldn't want to get shot with one. A more realistic assessment of range is about 100 feet. The kit, as shown in the photo above, sells for around $80, and is range ready to the extent that you need purchase nothing else to put it to immediate use.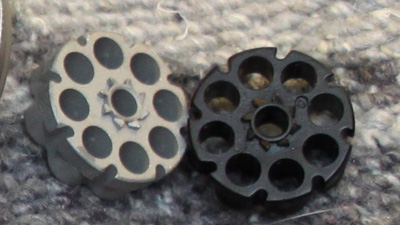 This interesting little CO2 pistol looks and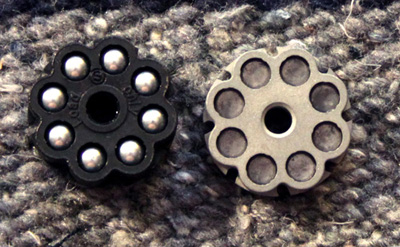 handles like a semi auto, but is actually a CO2 revolver. It loads through rotary magazines which hold either BB's or pellets. The BB magazines are made of black plastic, and the pellet magazines are constructed of silver finished metal. The magazines to the right are loaded with BB's and pellets. Power comes from the standard 12 gram CO2 cartridge in the butt. These cylinders give this little gun the capacity to shoot eight pellets without reloading. While BB repeaters are pretty common, pellet repeaters are a bit more rare, and expensive. pellets hit a bit harder and travel a biot further than BB's.
As of this writing, extra magazines sell in packages of three, with the metal pellet magazines going for around $15 a set, and the plastic BB magazines going for around $10 a set. These guns are lots of fun, and you will soon find yourself wanting extra magazines. You will also need to get many boxes of CO2 cartridges.
An unfortunate failing of this particular model is that the seals will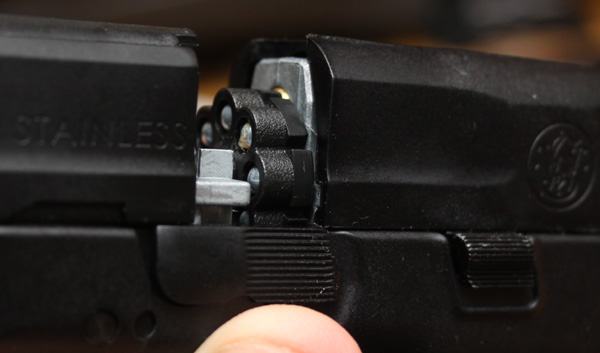 not hold pressure for any length of time. Essentially this means you will need to use a new CO2 cartridge for every session at the range. Leaving a cartridge in the gun overnight will result in an empty cartridge the next day. Putting a drop of oil on the tip of the cartridge before insertion helps, but does not cure the problem. Many CO2 guns have the same issue, so this is only a comment, not a condemnation. The photo to the right shows the action open with a magazine inserted in preparation for closing. A small ratchet advances the rounds, so the magazines must be inserted in a certain way. Pellet magazines must have the pellets facing forward. These are 9 round magazines, and a CO2 cartridge will provide something like 140 shots.
Accuracy was surprisingly good. I admit, I still don't take air guns quite seriously, yet I was able to get all of my shots within about an inch at about twenty feet in my basement air gun range. Calculated muzzle energy is just under 2 foot pounds. Compare this to about 34 foot pounds for the least energetic 22 gallery rounds, or the over 400 foot pounds put out by a standard 9mm. While there are some air guns that rival the performance of some of the lower powered firearms cartridges, this is not one of them.
Pains are taken to make the gun look as realistic as possible, and it can be hard to tell it from the real thing. All of the controls are simulated, even the ones that are not functional. Some have different functions. As an example, what would be the slide release on a S&W firearm, functions to open the loading gate on the air gun.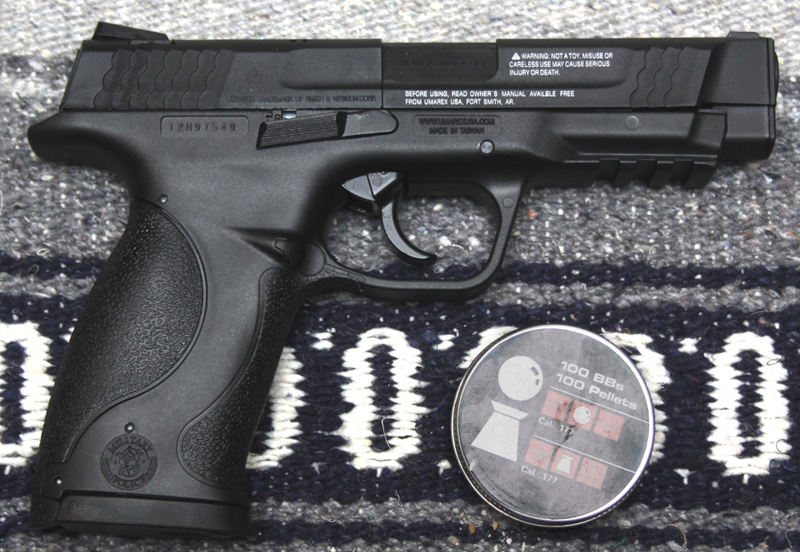 Some of the molded in controls have no function at all, like the magazine release. Others, like the slide serrations, and the ejector port, are clearly only for decoration. Still, all and all, except for the lack of recoil, firing one of these air guns is very much like firing an actual cartridge fed firearm. Details can easily be compared by looking at the photo to the left, as well as the one at the top of the page. There is also a photo at the bottom of the page showing a direct side by side comparison of the SW40VE model and this air gun.
This is my third air pistol, and joins a pair of air rifles to provide me with cheap, safe, and easy practice. Air guns are a lot of fun, can be fired in a household indoor range, and are legal just about everywhere. Once a day practice with one of these neat little guns, enhanced by two or three trips to the pistol range every month, with my more substantial genuine firearms, is a good way to keep skills sharp, have some fun, and not break the bank. Regular practice with an air gun is also a good way to break or avoid the habit of flinching.
A comparison photo of the S&W M&P 45 air gun, next to a S&W SW40VE in 40 S&W caliber. Also shown is the ammunition required by each.