Blade



Main

Co-Proc

Case

Desktop

*****

CPU

Sparc 500

Cel 700

RAM

2 GB

256 mb

HD

2 x 120 GB

Virtual 40

Video

Sun

*****

Drives

CD, Floppy

*****

OS

Solaris 10

W2K server

Sound

Sun

SB16

Monitor

15" VGA

*****

Modem

None

none

Network

10/100

10/100








This is my second Sun machine, and my third Unix machine. This is part of the generation which replaced the older Ultra Sun computer series. As with the Ultra series, this is a PCI machine. It uses standard IDE drives, standard PC memory, and can be hooked up to a standard VGA monitor. Blade is loaded with Solaris 10 which, as of this writing, is the latest version of the Sun implementation of Unix. As purchased, this machine had no hard drive, no keyboard or mouse, and only 256mb of RAM. Making the additions was simple, and fairly inexpensive. I found a 120gb drive (the drive limit of the Blade 100 is 127GB), for well under $100, and picked up a cheap USB keyboard, and a few more sticks of RAM.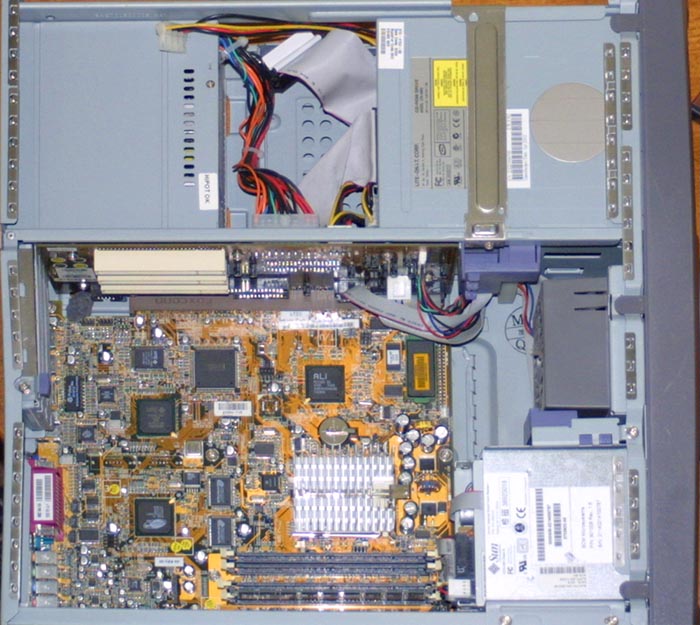 One thing that should be noted is that a standard USB keyboard can be used with this machine. Sun offers it's own special model, having a couple of columns of special purpose keys. A Windows keyboard will lack these keys. This is not really a problem, particularly since there are key combinations, which can substitute for the special keys. There is one exception, however, and it can be a major problem. There is no stop key, and though the CONTROL-BREAK combination is supposed to emulate the stop key, I have never been able to make this work. I go into the solution to this in my section below, on getting the machine ready to run. I do not recommend using a standard PS/2 keyboard, though adapters are sold for these. They can be used, in a unit which already has an operating system installed; but will not be visible to the bios, making it impossible to load the system. With low end USB keyboards available for under $20, there is really no reason.
The performance of the Blade is on a par with the latest, and fastest of the Ultra SPARC machines. The slightly updated processor has a smaller cache than that on the older ultra series; but is slightly faster. The Blade, with a 500 mhz cpu, can be slower at certain sorts of tasks than the Ultra 10 with the 440mhz cpu. The construction of the Blade is not quite up the quality of the older Ultra units; but still far surpasses anything that with be found in the typical home PC. The Blade has three PCI slots, in comparison to the four of the Ultra ten, or the two and a half of the Ultra 5. Both units will hold four 5.25" drives, and a pair of 3.5" drives. Both units are limited by the bios to hard drives of 127 gb capacity. The blade is capable of taking 2 gb of ram, as four 512 mb 168 pin DIMMs; twice that of the ultra series.
The Blade 100, though recently discontinued, is capable of running Sun's latest operating system, software, and peripherals, as of this writing. With the addition of an inexpensive Chimera card, or the even less costly Penguin card, this machine can run Windows 2000 (Penguin), or XP (Chimera). This machine was loaded with Sun's Solaris 10, and was very easy to load, once I figured out a way to emulate the missing Stop key on the standard USB keyboard.
A couple of options are available, when considering operating systems for the SPARC. There is presently a 64 bit version of Linux, ported over the SPARC platform. Naturally, there is also the Sun version of Unix - Solaris. In addition, BSD, NeXT,




Multi Boot into SPARC


Though there is probably a better way to do this, I will lay out here, how I took advantage of the Sun Open Boot system, to turn my Blade into a multiple boot system. This is something that Windows users have been doing for ages; but it is also easily available on the SPARC platform. In truth, this system could probably be made to run four or five different operating systems, in conjunction with the Chimera card; but first, lets talk about the SPARC.
After installing Solaris, in the normal manner, open up the machine and remove the hard drive, and install a new blank drive. You will then need to install the second operating system, in the same manner as you installed your original Solaris OS. As was mentioned above, you can stop the auto boot process, by hitting the STOP-A key combination. This will give you an OK prompt. If you are using a Windows keyboard, you will need to double click the power button, as soon as the power on beep sounds. With the installation disc in the CD or DVD drive, type in boot cdrom, at the OK prompt. You will the need to follow the instruction of the install program to install the second operating system. Once this is done, turn off the machine, open it back up, and reinstall your Solaris hard drive on ide-0, and your second hard drive, with the new operating system, on ide-1. Set the jumper on both drives to cable select, and position both on the cables so that each is the master drive on it's own ide channel. Once both drives are installed, get an OK prompt, and type probe-ide, to display your drive properties. If both hard drives are not set as masters, then you will need to reposition accordingly. No this may not be entirely necessary; but why complicate matters. Unless you are hoping to boot three different systems, there is no need to try and turn a slave into a boot drive. Still, if any intrepid souls wish to give it a try, I would love to hear about it.
Once the operating systems are installed, and the drives are properly positioned on their cables, you will need to set each an appropriate alias. Though I have not attempted this on either of the Ultra 10 machines that I have, there is no reason that this should not work just as well on an Ultra machine.


The Ultra Series

Model

Case
CPU
RAM
HD
Video
Drives
Expansion
Network
Date

Ultra 5

Desk top
IIi 270-
400mhz

4x168pin
512mb

1xIDE
4.3 to 20

8 or
24 bit

CDRom
3.5"
2.5 PCI

10/100
01/01

Ultra 10

Tower

IIi 300-
440mhz

4x168
1gb

2xIDE
4.3 to 20

24 bit
+ UPA

CDRom
3.5"

4 PCI

10/100

01/01

Ultra 30

Tower

II 300-
440mhz

16x200
2gb

2xSCSI
4.3 to 36

2xUPA

CDRom
3.5"

4 PCI

10/100

02/99

Ultra 60

Tower

II 2x300-
450mhz

16x200
2gb

2xSCSI
4.3 to 36

2xUPA

CDRom
3.5"

4 PCI

10/100

07/02

Blade 100

Desktop

IIi
500mhz

4x168
2gb

2xIDE
15 to 20



CDRom
3.5" card

3 PCI

10/100



Specs shown above are maximums.



The Chimera Card


I saved this section for last, because the Chimera card needs to be treated almost like a separate computer in it's own right. In point of fact, the Chimera card is a separate computer. It uses the power supply of the host computer, and is accessed by the keyboard and mouse of it's host, as well as displaying as a window on the host monitor. This is a somewhat more advanced version of the Penguin card installed on my Ultra 10 machines. I will update this section, when I have time.