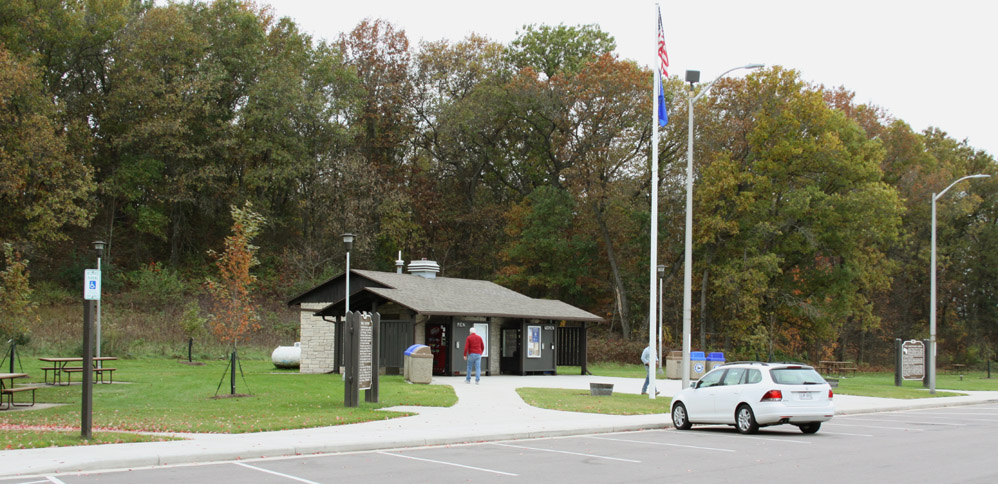 The rest area at Sparta is what you might call, well - spartan. This is an old area left pretty much in its original state from 1969, and not upgraded during the great period of highway construction. As such, it is a pretty interesting subject for photography, being a bit of a time capsule, and historic in a sense. At one time, this is how most rest stops were set up.
I recall these areas well from road trips during my childhood. The restrooms are fully enclosed, but there really is no interior space in these old style rest stops. The waysides, serving many of the state highways or less well traveled areas, greatly resemble these old style rest areas.


​Location
West of Sparta, Monroe County.

Mile marker 21 westbound
GPS coordinates: N 43° 54.642' W 90° 52.352'
Amenities
42 car and 16 truck parking stalls
Men's and women's restrooms
Handicapped accessible
Diaper changing facilities
Drinking water
Vending machines
Travel information shelter
Telephones
Picnic area and tables
Pet exercise area
Recycling areas
Features
Rest area opened in 1969.
"Original" style building.
Short scenic trail.
"Coulee Country" Historical Marker located on site.