S&W M-65
| | | | | | |
| --- | --- | --- | --- | --- | --- |
| Length Overall | Barrel Length | Weight | Caliber | Action Type | Magazine capacity |
| 9 Inches | 4 inches | 34 oz | .357 Magnum | D.A. Revolver | 6 |
This is, to my mind, nearly the ideal kit gun. It is the fixed sight, model 65, a classic "K" frame revolver, constructed of stainless steel, and able to fire the .38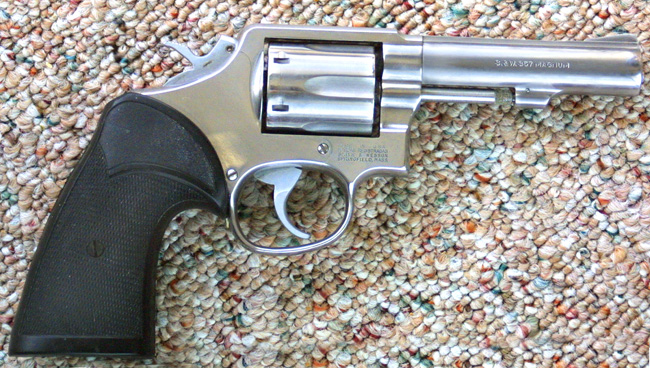 Special, or .357 Magnum. It is large and sturdy enough to handle magnum loads with little trouble, but small enough to remain handy. Though the M-65's fixed sights lack the versatility of the adjustable set, they are far less delicate, making the gun a bit more amenable to rough handling. The stainless construction means that the gun can withstand a certain amount of neglect, and exposure without becoming rusted, pitted, or seized up.
This model has a heavy 4" barrel, with a flat sighting plane milled into the top, given a dull sandblasted finish. The sights themselves consist of a serrated front blade, and a rear notch, milled out the full length of the frame. The ejector rod is unshrouded, but does have a front lug, which is part of the cylinder locking system. The frame has a square butt, and this particular example initially had the standard grips, rather than the larger target style; they have since been replaced by a set of rubber grips. The stainless steel is given the brushed finish, which S&W calls satin. The hammer, though small, is well checkered, and the trigger, to my surprise, is smooth, and wide.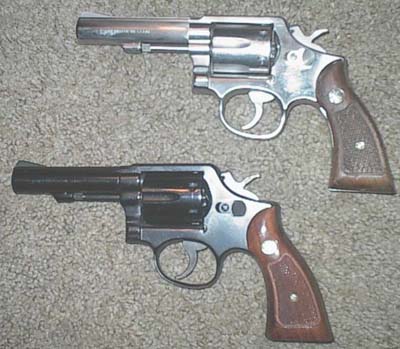 This is the stainless version of the medium frame model 13. The two guns are identical except for their material of construction. Since I own both models, a comparison seems to be called for. As with all K frame Smiths, handling, trigger, and shooting qualities are no surprise. When compared to the Model 13, the stainless version seems to be a bit rougher in finish, and has a decidedly rougher trigger pull. The trigger pull is not heavier, but seems to have a "scratchy" quality to it. The difference is much more pronounced than that between the regular and stainless N-Frame models. I plan to do some accuracy testing, between the two models, but individual examples can vary, and I don't know that such a comparison would really prove anything. Still, it will be an interesting, and amusing thing to do. As with the nearly identical Model 13, and all of the other "K" frame models, a huge assortment of gear is available. The entire K frame line was a standard with civilian, as well as police, and some military users.
Though I would prefer, and will someday purchase, a Model 66, the M-65 is an excellent choice for utility and general use. The 65 is essentailly the same gun as the 66 except it has fixed sights, rather that the adjustable sights of the model 66, and does not feature the full length ejector shroud of the M-66. It is well suited to throwing in a tackle box, leaving on a boat, or keeping in an emergency kit, for the traveler, camper, or outdoors man. In short, it is a great kit gun; a gun to have along when you are not bringing a gun.