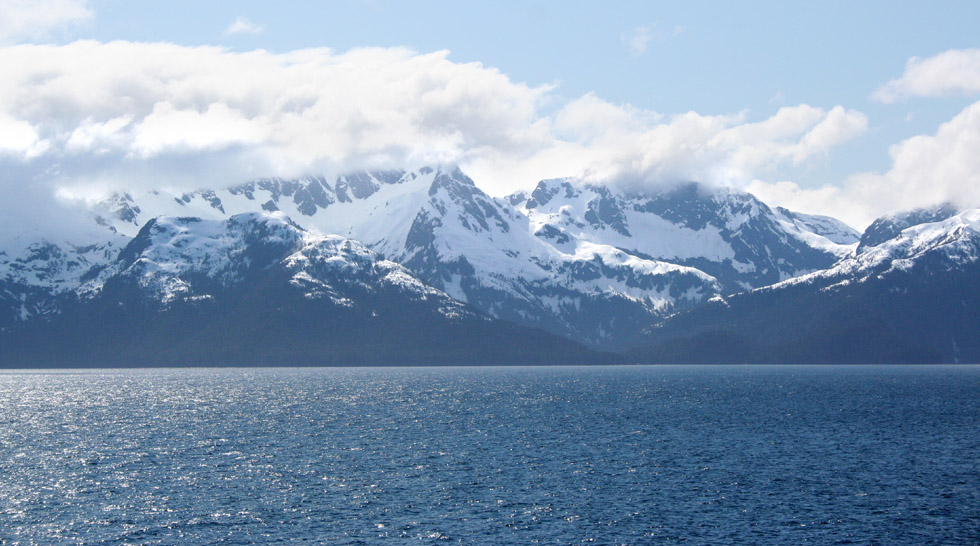 Introduction
The wilderness of Alaska is vast, and frightening, to those of us reared in the relative comfort and security of the lower 48. It is also intoxicating and alluring, when compared to the settled boundaries (social and geographical), and comparative conformity of the lower 48. The space, the freedom, the spectacular variety of the geography, and the excitement of a place which is still being discovered and settled are better than any drug. Alaska is still creating it's identity, and is still building itself, and determining it's limits. Alaska is, by far, the largest state, dwarfing Texas, and encompassing 570380 square miles, roughly a fifth of the area of the entire lower 48 combined. It is larger, by far, than any European country, except Russia, of which it had once been a possession. In all of this vast territory, there are just under 1100 miles of freeway plus another 414 miles of haul road, on the Dalton Highway, which will take the adventurous (or foolhardy) traveler to the shores of the Arctic Ocean. Roughly half a million people live here, with half living in Anchorage, and another 30,000 or so living in Juneau. Much of the rest of Alaska is very sparsely populated. For those who are interested in such details, Alaska was purchased from Russia for $7,200,000, at 10:00 on March 30th, 1867 (though it did not become official until October 18th), to become the Alaska Territory of The United States. It became a state in 1959.
To most people, Alaska is seen as a cold place. There is an element if truth to this, and a portion of Alaska does lie near and above the Arctic Circle. Even so, such an image ignores the vast scope and variety of the place. Anchorage, and the Inside Passage actually have warmer winters than my home state of Wisconsin, with Anchorage consistently being warmer than my home town of Milwaukee. There are large areas of agriculture, and the eighteen to twenty hour long summer days in the growing regions produce the largest vegetables, and highest yields per acre, of anywhere in the country, during the state's short growing season.
The wealth of Alaska initially rested upon fur trading, as was the situation in many of the wild places, of the early United States. A gold rush followed, the memory of which is kept vividly alive, in today's Alaska. Presently, the wealth of the state lies in oil, mining, and tourism. The place had little attraction for settlers, for most of it's history, though it has always supported a fairly stable population of self directed, and individualistic people. This was the second large land purchase of The United States, the first being the Louisiana Purchase.
It seems as if I have wanted to visit Alaska all of my life; but it has probably only been a dream of mine, since my teens. I absolutely remember the big pipeline and oil boom, in the seventies, and eighties, and how exciting things were happening up there. I was in my twenties at the time, and wanted to go. Somehow, though, I always seemed to have something holding me, or a good reason not to take the plunge. Years latter, I had a girlfriend, who is pure Eskimo, and was born up there (in North Pole, Alaska). The two of us planned on getting married, having kids, buying a house and moving back to her home state, in order to live happily ever after; but somehow, this never happened either, and ten years have passed. Too bad really, because we would have probably had a great life; but then again, maybe not. One of the wonderful, and terrible things about life is that you never really know, and that anything can happen. You make a life for yourself, or you make yourself no life at all; but whatever you do, it's all yours.
At any rate, near the end of 2006, I was planning a trip to Alaska. This was to be a drive, in my recently purchased van. I had planned to take the Alaska Highway across Canada, in into the great northern reaches of the 49th state. This was to occur in a couple of years, as a reward for finishing my on-line studies in computer science, and was to last several months. While doing a web search on the Alaskan Highway, I stumbled across a number of pages about the Alaskan Marine Highway, which is the system going from Seattle, to ports all around the Alaskan coast, linking all of the coastal cities, and settlements, with the mainland, and with each other. Rather than waiting a couple of years, I could go right away. A passage to Seattle, and then a fare to ride the ferry would be all that I would need.
Looking even more closely, I learned that cruise ships travel all over Alaska. Now, I had never considered cruising. This type of vacation is for the wealthy, the senior citizen, or the traveler without the sense of adventure to go off on his own; or so I thought. Still, the more I looked at the cruise ships, the better they looked. The final factor was that the cruise ship passage, for luxury accommodations, food, entertainment, and first class service, was about the same as that for the somewhat more spartan pleasures of the ferry. I was sold. Cruise ships sleep double, and single passages are either not permitted, very expensive, or greatly discouraged. Fortunately, my friend Sunny thought that an Alaska cruise vacation was a great idea, and she was happy to join me. So we were set. After looking around, I settled upon the Golden Princess.
I can find nothing about which to complain. The ship was everything I had hoped it would be, and the stops were marvelous, particularly with the side trips taken. If I was simply a tourist, who did not experience the REAL Alaska, then what I did experience was real enough. I can always go back for the rest. In point of fact, I still plan to take my van journey, up the Alaskan Highway, into Alaska, and up to the Arctic ocean, via that Dalton Highway (The Haul Road). Perhaps I will then visit Anchorage, and look up my old girl friend. She will either be happy to see me, or will throw a bottle or a dish at me - perhaps both. This is the way of things with old girl friends. At any rate, Alaska is not finished with me, nor I with it. Such a place is certainly worth more than just a week of my life.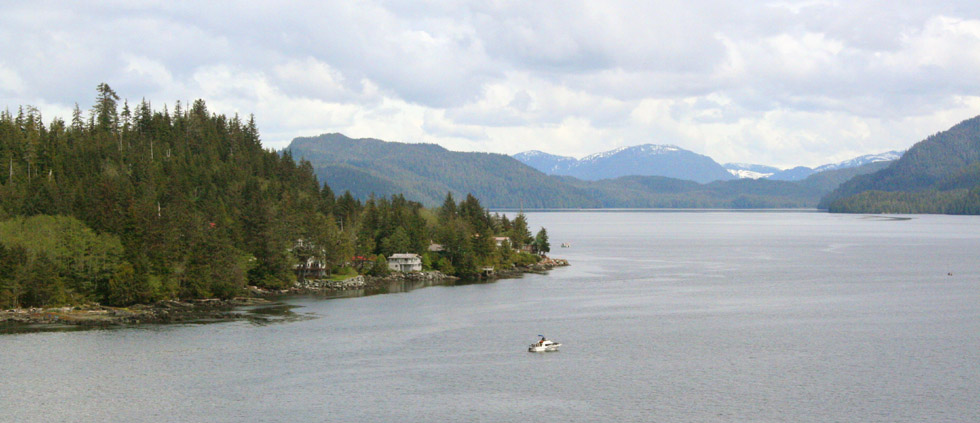 ---
2007
A cruise to Alaska

Alaska has become quite a popular cruise destination. Visitors generally depart from Seattle, Victoria, or Vancouver, though some ships come up from as far down as San Francisco, or even Los Angeles. I booked my cruise at www.cruisesonly.com and can say nothing bad about the booking, service or cost. Regarding costs, a cruise is no longer a wealthy man's vacation. The per person cost comes to something like $100 per day, for an outside cabin. Prices can go much higher, for suites and such, and can go a bit lower, for an inside cabin with no window. Still, for a week long cruise, figure at least $1000 per person, You will want to take some excursions, buy some things, and may incur some extra expenses on the ship. Though these cruises are all inclusive, bar tabs, and certain other extra services are extra cost items. I figure an extra $100 to $200 a day, for excursions and extras is about right. Different ships have different itineraries. The Golden Princess went all the way up to Juneau, our farthest stop, first, and then made the passage down, stopping at port on the way back. We stopped at Juneau, Skagway, Ketchikan, sailed up Tracy Arm, and then spent a few hours at Victoria in Canada, before disembarking in Seattle. Our first day was spent sailing up the Inside Passage, and we made no stops at all. I will absolutely be cruising again, and will certainly go back to Alaska, though my next Alaska trip will probably be by van. In the meantime, I took a bus trip into the Canadian Yukon, and a train back, took a seaplane excursion down the Misty Fjord, and visited Mendehal glacier. I saw a fish hatchery, and as unlikely as it seems, visited a rainforest in Alaska, and a desert in the Canadian Yukon. I can hardly wait until the next time.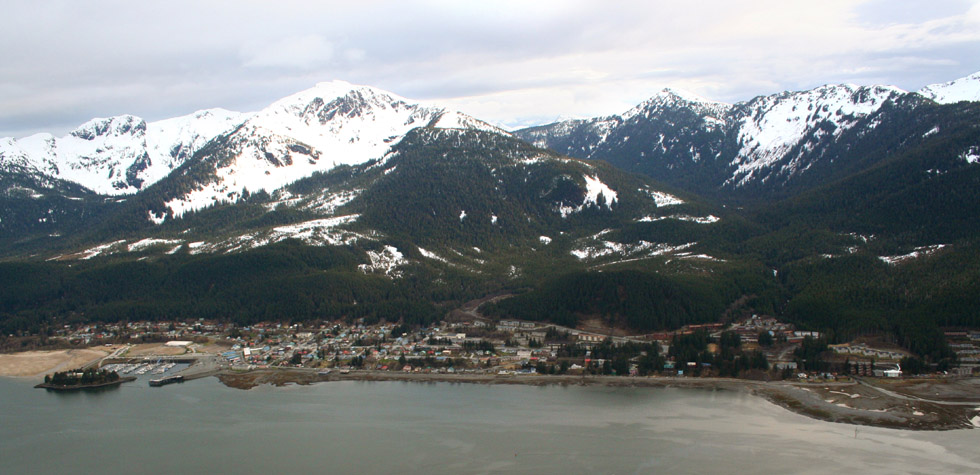 | | |
| --- | --- |
| Photos | Comments |
| Starting Out | The first day, as with all first days of travel, was hectic. This was made all the more hectic, by a sick pet, a sleepless night, a last minute trip to the vet, and no place to park at the train station. |
| The Train | A two day trip, via Amtrak, took us to Seattle for a couple of days. A sleeper car is the only way to travel, if the trip is going to last more than a day. Dinner in the dining car, trips to the observation car, and various stops along the way, made the trip out, part of the fun. I love trains. |
| The Trip | The trip out took us through prairie, mountain, and woodland. As always, when traveling across country, I am amazed at all of the farms and farmland I see. |
| Seattle | This is one of the world's great cities, and worth a visit in it's own right. We were there for two days before, and two days after, our cruise to Alaska. |
| The Ship | For a week, the Golden Princess was our home, as we visited Alaska. These ships have to be seen to be believed. The are huge, luxurious, quite a bit of fun, and very comfortable. Imagine a resort hotel which can move and float. |
| On Our Way | Seattle was fun, and the Golden Princess is amazing; but we came out here to see Alaska. Late in the afternoon, we depart Seattle, and head out onto the ocean, to hit the Alaska panhandle. We will be in open ocean, on the way out, and then cruise the Inside Passage on the way back. In the meantime, there are meals to eat, shows to watch and a ship to explore. |
| Juneau | The capital city of Alaska, and yet, there are no highways in or out of town. The only way to get here is by boat or airplane. The largest sate in the nation has what is probably the smallest, and least populated capital. |
| Skagway | Skagway was, at one time the gateway to the gold fields of the Canadian Yukon. It was my favorite stop. |
| Canada and the White Pass | The Canadian Yukon has passed into myth, so much so that it is sometimes hard to believe that it is a real place. From Skagway, a short drive by bus or car takes you over the Canadian border, and into a place of legend. Even in the summer, there is snow in the passes, and we passed through some areas, where it seemed more like December than May. |
| Ketchikan | Ketchikan ranks itself as Alaska's first city, and as the salmon capitol of the world. it is also the gateway to Misty Fjords National Monument. |
| Misty Fjord | |
| Victoria, B.C. | |
| Back to Seattle | |
| The Turner Joy | |
| Leaving | |
| Train Back | |